[Genre] Melodic
& Harmony Rapper , Chopper
[Label] Abnormal Sounds LLC.
[Hometown] East Saint Louis, IL
​
Silent Quiet but Deadly Reno Da Crow hailing from East Saint Louis considered as Melodic & Harmony rapper with influences that hail top of the charts and paying homage for a list of legends with-in the last 30 years started in the 1991 with a Hip-Rock sound and vibe which lead his career to a higher calling with music that puts you straight into the a new wave of music. with the conglomerate production company Abnormal Sounds to help grow his fan-base in the Mid-West Regions of Saint Louis, MO he is sure to reach the top of his new found glory of his career.
Events
​(coming soon for ticket sells)
While we are updating our site please feel free to contact us about booking (Reno Da Crow)
Powered by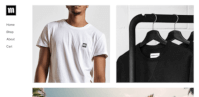 Create your own unique website with customizable templates.